Friday, 2 November 2018 - 8pm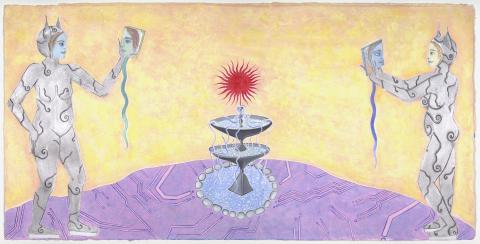 "There must be a mirror between us... cos when I look at you, all I see is a reflection..."
Orchestra of Spheres welcomes you on a journey through the looking glass!
Mirror, a double LP and the band's 4th release on Fire Records, is an exploration of energies and atmospheres, from intense futuristic funk and sonic tape assemblages to windswept reflections from their far flung corner of the world. It combines Orchestra of Spheres' ecstatic rhythmic power and ritualistic vocals with an expanded orchestral palette including bassoon, harp, viola, bass clarinet, soprano sax, flute and bowed ektars.
The album was recorded at Building M, an old corrugated iron warehouse down the end of an industrial lane in Newtown, Wellington. Nestled between a cattery, a bowling green and the Wellington Zoo, Building M is the home and studio of Warwick Donald, a musician and engineer who's been recording underground local bands for many years. Sounds of revving motorbikes wafted through the studio's open windows, mingling with late summer cicadas and hungry lions at feeding time. The band set up in Warwick's big open recording room which doubles as the kitchen, living room and occasional gig space, and put his collection of old New Zealand amps, mics and homemade reverb plates to good use.
The open recording setup and group interplay nods towards psychedelic jazz explorations, with drummers Woild Boin and Farmerboy laying down deep grooves from which spring forth the syncopated bass lines of EtonalE, quicksilver synths of Mos Iocos and fuzz laden guitar of Baba Rossa. OOS dipped into Wellington's deep pool of creative musical talent to gather the additional timbres that take this musical journey into new sonic realms. Peter Daly's beautifully tense viola playing on the title track conjures a dark shadowy world while shawm-like reeds gives a funereal tone to Koudede, a lament for the great Tuareg guitarist and singer, who tragically died not long after Orchestra of Spheres supported Group Inerane in Utrecht. Another highlight is Black and White, where Mos Iocos's bell-like vocals create a whirlpooling sonic dreamstate.
European Tour November 2018
Thursday, 1 November 2018 - 8pm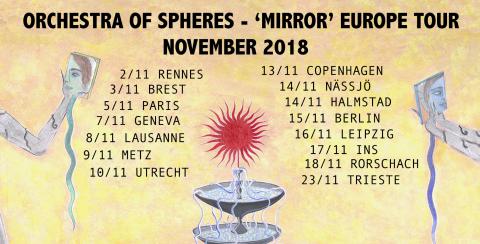 Fri 2/11 - Rituel 2, Rennes, FR
Sat 3/11 - Le Festival Invisible, Brest, FR
Sun 4/11 - Tourne Disques - Lannion
Mon 5/11 - Supersonic, Paris, FR
Wed 7/11 - L'usine, Geneva, CH
Thurs 8/11 - Le Bourg, Lausanne, CH
Fri 9/11 - Musiques Volantes, Metz, FR
Sat 10/11 - Le Guess Who, Utrecht, NL
Tues 13/11 - Loppen, Copenhagen, DK
Weds 14/11 - Sörängen, Nässjö, SE
Weds 14/11 - Roots Bar, Halmsted, SE
Thurs 15/11 - Arkaoda, Berlin, DE
Fri 16/11 - UT Connewitz, Leipzig DE
Sat 17/11 - Schuxenhaus, Ins, CH
Sun 18/11 - Treppenhaus, Rorschach, CH
Fri 23/11 - Trieste, IT
Sat 24/11 - Argo16 - Venice
Saturday, 8 July 2017 - 8pm
Sat 8th July [CH] LAUSANNE - Cite De La Musique Festival
Sun 9th July [CH] BIEL / BIENNE - openair
Mon 10th July [CH] ZURICH - Boschbar
Wed 12th [IT] UDINE - Visi(On)Air
Thurs 13th [IT] ANCONA (Offagna) - New Evo Festival
Fri 14th [CH] LUGANO - Buskers Festival
Sat 15th [IT] FAENZA - Palazzolo sul Senio - Fresco Festival
Mon 17th [IT] TERRACINA (South of Roma)
Wed 19th [FR] AVIGNON - La Gare de Coustellet
Fri 21st [PT] BRAGA - Milhoes De Festa
Sat 22nd [ES] VIGO - Sinsal Festival
Wed 26th [CH] GENEVA - Bains des Paquis
Fri 28th [DE] BERLIN - Wassermusik Festival
Monday, 28 September 2015 - 12am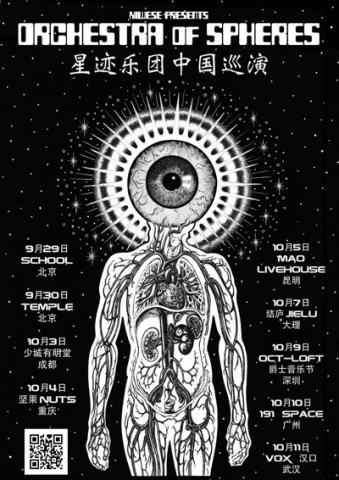 Orchestra of Spheres are heading to tour China for the first time in September/October 2015! We're taking our good mate Lady Lazer Light too!!
Playing 9 shows all over the country, from Beijing to Dali and lots of places in between.
Many thanks to Kristen Ng at Kiwese for sussing all this out! And special thanks to Hannah Salmon for the poster!
Kiwese proudly presents...
ORCHESTRA OF SPHERES w/ LADY LAZER LIGHT
29 Sept – Beijing, School, w/ Baxian Fandian
30 Sept – Beijing, Temple 坛酒吧
3 Oct – Chengdu, Shao Cheng Fest 少城有明堂艺术节
4 Oct – Chongqing, Nuts 坚果 Livehouse
5 Oct – Kunming, MAO Livehouse, w/ South Acid MiMi Dance Team
7 Oct – Dali, Jielu Music Space 结庐音乐空间
9 Oct – Shenzhen, OCT-LOFT Jazz Fest 国际爵士音乐节
10 Oct – Guangzhou, 191 Space, w/ Full Label
11 Oct – Wuhan, VOX Hankou 汉口
Sunday, 19 October 2014 - 12pm
18 Oct Moon Block Party, Pomona
19 Oct The Mint, Los Angeles, USA
21 Oct CMJ: Studio at Webster Hall, New York, USA
25 Oct Pianos, New York, USA
27 Oct Beat Kitchen, Chicago, USA
29 Oct BAR, New Haven, USA
30 Oct North Star Bar, Philadelphia, USA
31 Oct Fire30: Comet Ping Pong, Washington, USA
05 Nov The Freezer, Rif, Iceland,
07 Nov Airwaves Festival, Reykjavík, Iceland
See events for more info!
OOS at City Gallery, Wellington
Friday, 11 July 2014 - 3pm
We're playing at the City Gallery, Wellington, on Thursday 7th August.
Thursday, 15 May 2014 - 3pm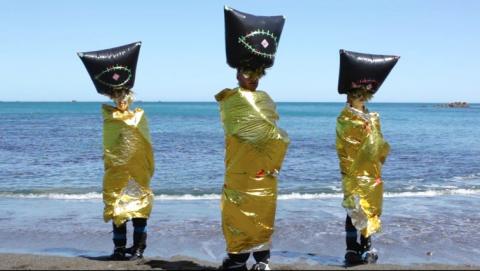 Check out the Fingerweg music video!
The Spheres collaborated with installation artist Brydee Rood and videographer Will Sklenars to create a video for the single, Fingerweg, released on the Italian label Outside Inisde Records. Shot on location on Wellington's south coast and at the band's new HQ, The Pyramid Club, the video features Rood's trademark plastic bag constructions, with the band appearing as 'gold creatures' born out of the oceans' mysterious depths.
ELECTRIC COMPANY Video !!
Friday, 11 July 2014 - 3pm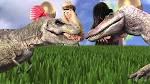 Check our new music video -  Electric Company!!! It was created by video artist Jay Winebrenner from Portland, USA, features whacked out news readers and tripped out sci-fi landscapes.
Saturday, 29 March 2014 - 8pm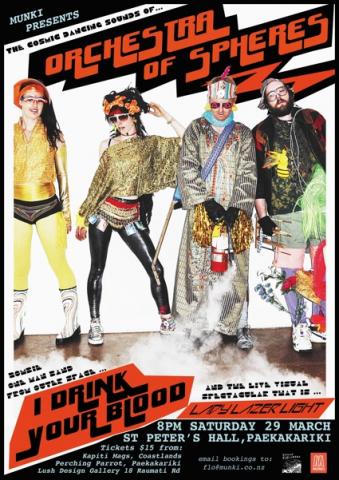 Orchestra of Spheres are bringing their ancient future funk back to Paekakariki! 
Since their last gig on the Kapiti coast in 2011, the Spheres have released 2 LPs, toured Europe 3 times and travelled many light years into the future in search of higher frequencies and new instruments... but they still retain their raw, psychedelic energy, colourful costumes and wild stage presence. 
Paekakariki is in for an extra good night with a very special guest ... extraterrestrial-zombie-one-man-band I Drink Your Blood playing hit horror movie soundtracks from outer space!
And as if things couldn't get any better, Lady Lazer Light will create a live visual spectacular to get you time traveling on the dance floor!
St Peter's Hall, Paekakariki
Saturday 29th March
8pm
$15 pre-sale tickets available from Perching Parrot Cafe in Paekakariki, Lush Design Gallery 18 Raumati Road, and Kapiti Mags in Coastlands. 
Email bookings to: flo@munki.co.nz 
Wire Review of The Chills and OOS albums
Saturday, 26 October 2013 - 9am

Pages