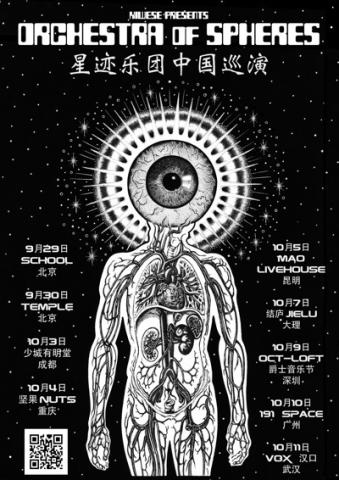 Orchestra of Spheres are heading to tour China for the first time in September/October 2015! We're taking our good mate Lady Lazer Light too!!
Playing 9 shows all over the country, from Beijing to Dali and lots of places in between.
Many thanks to Kristen Ng at Kiwese for sussing all this out! And special thanks to Hannah Salmon for the poster!
Kiwese proudly presents...
ORCHESTRA OF SPHERES w/ LADY LAZER LIGHT
29 Sept – Beijing, School, w/ Baxian Fandian
30 Sept – Beijing, Temple 坛酒吧
3 Oct – Chengdu, Shao Cheng Fest 少城有明堂艺术节
4 Oct – Chongqing, Nuts 坚果 Livehouse
5 Oct – Kunming, MAO Livehouse, w/ South Acid MiMi Dance Team
7 Oct – Dali, Jielu Music Space 结庐音乐空间
9 Oct – Shenzhen, OCT-LOFT Jazz Fest 国际爵士音乐节
10 Oct – Guangzhou, 191 Space, w/ Full Label
11 Oct – Wuhan, VOX Hankou 汉口